welcome to our new release section!
We are pleased to announce the recent release of the below wines, and be sure to check out a full listing of all our wines in the All Wines section.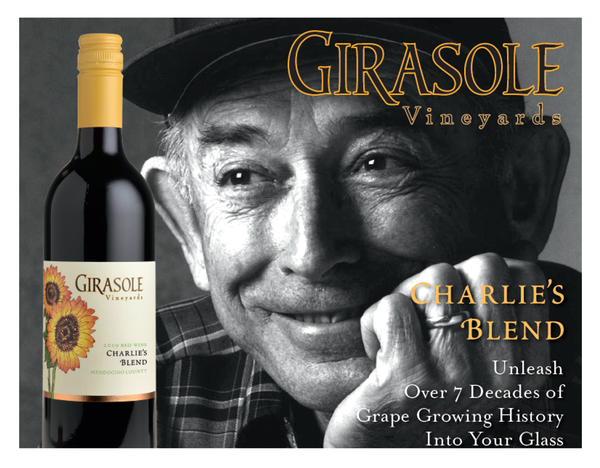 Born in 1926 to first generation French and Italian immigrants, Charlie Barra was a teenager when he began working in the vineyards alongside his grandfather, father and brothers in Mendocino County. He planted his first vineyard on the175 acre home ranch, Redwood Valley Vineyards, in 1955. His early commitment to organic farming served as an inspiration to many, and the results are still visible today across our 350 acres of estate grown, certified organic vineyards that are home to fertile soils teeming with beneficial insects, 7 rainwater-fed ponds, and abundant wildlife. Click here to watch a video of Charlie talking about how he got started in the grape business.

Paying tribute to his legacy, we've created "Charlie's Blend", a delectable union of Merlot, Cabernet, Petite Sirah and Zinfandel grown on our family's three certified organic vineyard sites. Compliments of the Petite Sirah and Merlot, this wine displays a rich, deep ruby color in the glass. It opens with alluring aromas of ripe boysenberry, light caramel and roasted pine nuts. On the palate flavors of raspberry, toasted marshmallow and hints of vanilla tempt the taste buds. The well integrated tannins on this medium bodied red deliver a silky smooth mouthfeel, and the finish is long and layered.

Enjoy the below story telling videos with Charlie Barra!
Charlie Barra on buying his first vineyard
Charlie Barra on betting on grapes in the 1950's

In Stock
96 + Best of Show, Best of Class & Double Gold (Harvest Terroir Challenge), 89 (Wine Enthusiast) & Gold (Mendocino County Wine Competition)

In Stock
89 / Wine Enthusiast & Double Gold / Mendocino County Wine Competition

In Stock
92 (Sunset Magazine) & 89 (Wine Enthusiast)
In Stock
94 + Gold / Experience Rosé Wine Competition

In Stock
89 Points / Wine Enthusiast Magazine