Charlie | Martha | Shawn | Shelley
family
---
Martha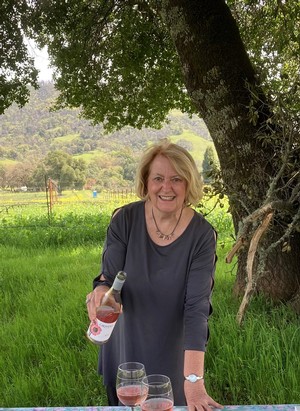 Martha's foray into the wine industry began in 1980 when she married Charlie Barra, a veteran vintner/grape grower. Working side-by-side for 40 years with Charlie, she learned the ins-and-outs of farming over 300 acres of organic-certified vineyards, creating fine wines, and building successful wine brands.
Often referred to as the "other Martha", Martha Barra can give Ms Stewart a run for her money when it comes to entertaining, cooking, decorating and most importantly, running a business! A driving force behind the creation of the BARRA of Mendocino (1997) and Girasole Vineyards (2003) brands, her hard work, dedication and keen business sense have helped build wine sales to over 20,000 cases.
Martha's special interests include cooking and entertaining with emphasis on food and wine pairings, traveling to Europe, studying architecture and remodeling houses. She also participates in her community by raising funds for museums, colleges and other foundations in need of additional resources.