Charlie | Martha | Shawn | Shelley
family
---
Charlie
"I've never missed even one harvest. Do you know why? I only get paid once a year, so I'm going to show up for harvest to ensure I get paid!" — Charlie Barra (1926-2019)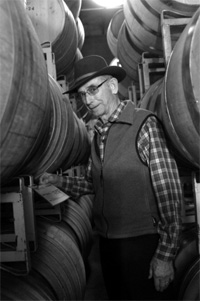 Charlie Barra was born in Calpella, CA (just 5 miles north of Ukiah) in 1926 to Italian immigrants Marie Rovera and Antonio Barra. Descendants of Piedmont, Italy, both the Rovera and Barra families worked in the vineyards of Italy spanning as far back as the mid 1800s. So it was only natural that Charlie and his two brothers spent their young teen years working side by side in their father Antonio's vineyard in Northern California, learning to prune at the ripe age of 10! In 1945, when Charlie was a junior in high school, he leased a ranch from one of his old Italian neighbors. There were scheduling conflicts between going to school and farming the vineyards, and Charlie even threatened to quit school. However, the principal intervened and made an arrangement with all of Charlie's teachers to allow him to go only a half day. After harvest, when the crop proceeds came in, it was easy to determine that Charlie had earned three times as much as the principal for that year!
In 1955 Charlie purchased Redwood Valley Vineyards, 175 acres of vineyard located at the headwaters of the Russian River, nestled at the base of rolling foothills. When Charlie purchased the vineyard, farmers were averaging as little as $40 a ton for their grapes, as the demand for quality wine based on true varietals had not yet been established. Most growers were still farming what Charlie calls "standard" grapes that were used by the major wine producers to make Burgundy and Chablis--the basic table wines of the times. But after a few short years of growing "vin ordinaire", Charlie could see the tide was turning. He began working with Karl Wente, Robert Mondavi and others on moving to a varietal-focused vineyard. Charlie was one of the first growers on the North Coast to plant Chardonnay, Riesling, Cabernet Sauvignon, and Pinot Noir. And over the next 35 years, Charlie would add another six varietals to the soils of Redwood Valley Vineyards including Petite Sirah, Sangiovese, Merlot, Pinot Blanc, Muscat Canelli and Zinfandel.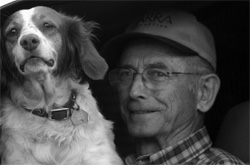 And while growing the fruit was his first passion, the downturn in grape prices in the late 90s gave Charlie and Martha pause. In 1997 they decided to launch their first brand, BARRA of Mendocino. Girasole Vineyards debuted three years later in 2003. All BARRA of Mendocino and Girasole Vineyards wines are made with 100% estate grown, certified organic grapes.
On June 29, 2019, Charlie passed away peacefully at home at the age of 92. To read more about Charlie's life, please click here.