It's Our Anniversary...Come Celebrate With Us!
In 1955, Charlie Barra planted 175 acres of prime bench land vineyards in Redwood Valley, CA. As we kick off this year's harvest of our organically grown grapes, we're commemorating 65 years of being family owned and farmed! We have planned a variety of special activities including a virtual winemaker dinner, access to our select 65th anniversary Library Collections, social media give-aways, holiday promotional offers and more. If you're not on our mailing list yet, please click here to sign up so that you don't miss out on the fun!
Below please find a listing of our upcoming activities, but keep checking back for updates as we add to the calendar.

SEPTEMBER 12TH: Winesong's "Vintner of the Year", Martha Barra, appears on virtual auction CLICK HERE
SEPTEMBER 14TH: Girasole Vineyards Instagram Give-Away kicks off CLICK HERE
SEPTEMBER 26th: Fall wineclub member pick up
SEPTEMBER 28TH: 65th Anniversary Harvest Wine Sale CLICK HERE
OCTOBER 5TH: BARRA of Mendocino Instagram Give-Away kicks off
OCTOBER 30TH: Monthly email sign up drawing CLICK HERE
NOVEMBER 30TH: Monthly email sign up drawing CLICK HERE

Please enjoy our 65th Anniversary pictorial timeline below:



New Release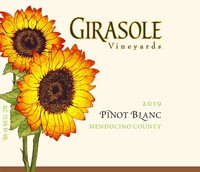 2019 Pinot Blanc
Enjoy this new vintage today!