organic farming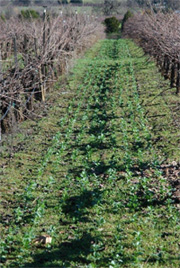 Charlie liked to say that he'd "been farming organically for 50 years; the first 30 I didn't know it. There was no organic certification process. Prior to World War II, growing without commercial chemicals and fertilizers was standard procedure." The home ranch, Redwood Valley Vineyards, has been certified organic by California Certified Organic Farmers since 1989.
Certification requires that our grapes are grown without conventional pesticides or herbicides, synthetic fertilizers, sewage sludge, bioengineering, or ionizing radiation. Bell beans, red clover, peas and vetch are planted between the rows of vines, and then, just when the flowering plants are turning to either seed or starting to bear fruit, the plants are turned back into the soil where they are converted to nutrients for the vines. The soils are alive with micro-organisms that allow the vines to take up the nutrients in a more efficient manner.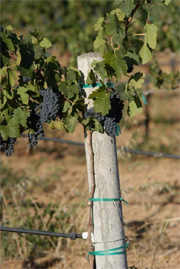 Charlie and our employees made 1,100 cement end posts that are used to replace the creosote-soaked wooden posts that are still used in most traditionally-farmed vineyards. This is just another example of our commitment to making as healthy a vineyard as possible.