making the wine
Our estate-grown, certified organic grapes are picked at the peak of flavor. They are delivered to our winemaker, who then follows strict CCOF (California Certified Organic Farmers) guidelines throughout the winemaking process. For example, when wine is crafted using the "organically grown grapes" designation on the front label and the certifying agency's seal on the back label, the regulations require that the total sulfite content cannot be more than 99 ppm (Note: for comparison purposes, the FDA allows up to 350 ppm in traditional wines). 99 ppm is a very low addition of an approved preservative that keeps the wine from oxidizing, which can cause the wine to change flavors or color. After bottling, our wines typically test out at a total sulfite level of between 45-65 ppm.
Our winemaker also adheres to vegan friendly guidelines when making the Girasole Vineyards wines. This means that no animal products, such as egg-whites, are used in the winemaking process. Special organically-approved yeasts (which are not grown on any petrochemical substrate product) are used to promote the fermentation of the grapes into wine.
New Release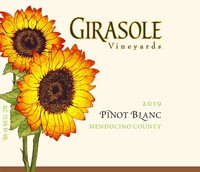 2019 Pinot Blanc
Enjoy this new vintage today!