visit us / contact us
6/15/20: Blooming gardens await you at BARRA of Mendocino Winery!

Beginning Monday, June 15th, we will be taking reservations for minimal contact, outdoor tasting experiences in our spacious patio and gardens! We will be taking all appropriate measures to ensure staff and guests are adhering to state and county guidelines so that you can experience a safe, enjoyable wine tasting event. Please call us at 707.485.0322 or email us at events@barraofmendocino.com to reserve your BARRA of Mendocino tasting experience (reservations required as our hours/days of operation vary). We are looking forward to seeing your smiling faces on the patio soon! ($10 per person tasting fee applies and is refunded with any wine purchase).
The Barra Family

_____________________________________________________________________________________________________________
We welcome to you visit us at the BARRA of Mendocino Winery, where we pour both Girasole Vineyards wines as well as our BARRA of Mendocino wines. We are located just 2 hours north of San Francisco just off Highway 101. We are open daily from 10:00 am - 5:00 pm (check our website for special holiday closures). If you would like to arrange a private tour, please select your preferred date and number of people in your party using the form below. We will contact you to confirm your tour!
If you'd like to receive our quarterly newsletter, let us know.
If you'd like to be notified when our vintages change or varietals are added, let us know.
For information regarding hosting your own events at the BARRA of Mendocino winery, please visit our event center page.
For further information about our wines, or for more details on reserving the BARRA of Mendocino Winery for your own private event, please feel free to contact us.
Email:
info@girasolevineyards.com
Phone:
(707) 485-8771
Fax:
(707) 485-0147
Hours:
10:00 A.M. – 5 P.M. Pacific
Street Address:
7051 N. State Street Redwood Valley CA 95470

Postal Mail:

Girasole Vineyards
PO Box 196
Redwood Valley, CA 95470
New Release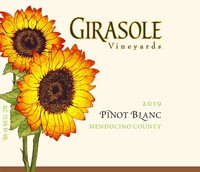 2019 Pinot Blanc
Enjoy this new vintage today!