welcome to our new release section!
We're happy to announce that we now have several new releases available in our beautiful new sunflower label! All of these new releases are listed below, and be sure to check out a full listing of all our wines in our All Wines section.

2012 Pinot Blanc
In Stock

2011 Pinot Noir
In Stock
Silver Medal Winner (88 points) at the 2013 CA. State Fair Wine Competition!

In Stock
Voted Best of Class at the Riverside International Wine Competition!
new releases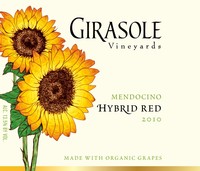 2010 Hybrid Red
Enjoy this new vintage today!
750 ml, organically grown grapes
$13.00