2016 Girasole Vineyards Pinot Noir
Aromas of ripe Queen Anne cherries, licorice, fresh cranberry, and a hint of cinnamon rise to greet the expectant taster, followed by flavors of old-fashioned cola candy, forest floor in the Fall, and ripe red fruit preserves. The palate is light, but with a firm acidity and unassuming tannins, followed by a subtle finish of pipe tobacco and vanilla.
This is a delicate Pinot Noir, not at all overpowering, and can quite easily morph to suit just about any occasion.
Wine Specs
Appellation
Mendocino County
---
Product Reviews
New Release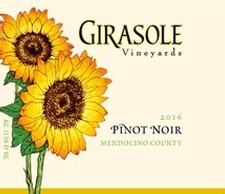 2016 Pinot Noir
Enjoy this new vintage today!