Charlie | Martha | Shawn | Shelley
family
---
Shawn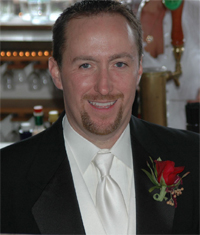 Fondly referred to within the family as the "bean counter", Shawn Harmon joined Martha (mom), and Charlie in the family business in 2002 following a 10 year career as a civil engineer. His formal business and engineering training at California Polytechnic University in San Luis Obispo helped prepare him for a variety of roles in both the vineyard and in the business offices. From the design of irrigation ponds and site development plans to inventory systems and wine tastings, Shawn dove into all aspects of the organization to help streamline business processes that would act as the foundation for future growth.
Fast-forward 10 years later, you can still find Shawn wearing a multitude of hats. "Being a small, family-run business, you have to roll up your sleeves and take on a variety of responsibilities", says Shawn. Shawn currently spends his days managing all financial aspects surrounding the family business, shared sales & distribution responsibilities with his sister Shelley as well as heading up all bottling, logistics and capital improvement projects.
Shawn resides in Ukiah, CA with his wife and family and likes to spend his spare time remodeling homes, traveling, and entertaining friends and "extended family".
New Releases
2016 Pinot Blanc
Enjoy this new vintage today!