all wines
Welcome to the wines of Girasole Vineyards! All of our wines are made from 100% estate grown, certified organic grapes. From the crisp, clean flavors of our Pinot Blanc to our fruit-forward Cabernet Sauvignon, we're sure you'll find our wines to be pleasing to the palate and the pocketbook! Please be sure to check our approved shipping states list to ensure we can deliver wines to your state.
*AUTOMATIC 20% DISCOUNT ON ALL FULL CASE ORDERS*

2009 Cabernet Sauvignon
In Stock


new releases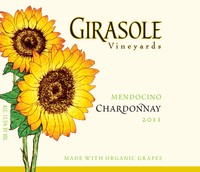 2011 Chardonnay
Enjoy this new vintage today!
750 ml, organically grown grapes
$13.00